It's a question people ask me all the time: how do I manage to travel so much and how do I make money to travel the world?
The important thing to realize is travel is my number one priority, whether I'm personally paying for it or a company is sponsoring my trip in exchange for work. For most people, their priorities are their children, their lifestyle or their job. And thankfully, my job happens to mesh well with my passion for travel.
I spend almost every penny I make on travel versus a home mortgage, new vehicle payments or eating out several times a month. In fact, I covered the basics of affording travel here with a few of the major ways I save my money.
But when I do earn money – what am I doing to make the cash to survive another year?
The quick answer is I am a digital media content creator and marketing manager. But after stating that, you might still be wondering what I do.
There are 6 main ways I make money to travel (and I am always looking for new gigs – so if you are looking for a content creator in any of these areas or know someone who does, don't be afraid to reach out. I might just be able to help you create something for your business!):
1. Writing
Writing is by far my biggest source of income. In fact, I often share my writing projects on my social media channels so you probably know about many of them! It also allows me to be location independent which is how I can be sipping sangria on a beach in Panama but still completing assignments (as long as I have internet).
I freelance for magazines like CAA Saskatchewan, AMA Insider and Pink Magazine. I write pieces like this Insider's Guide to the City of Saskatoon or smaller blog pieces for Tourism Regina. I also do other freelance gigs like helping businesses create the foundation content for their websites. I am always on the lookout for new magazines or writing gigs to help me fund my travels.
2. Speaking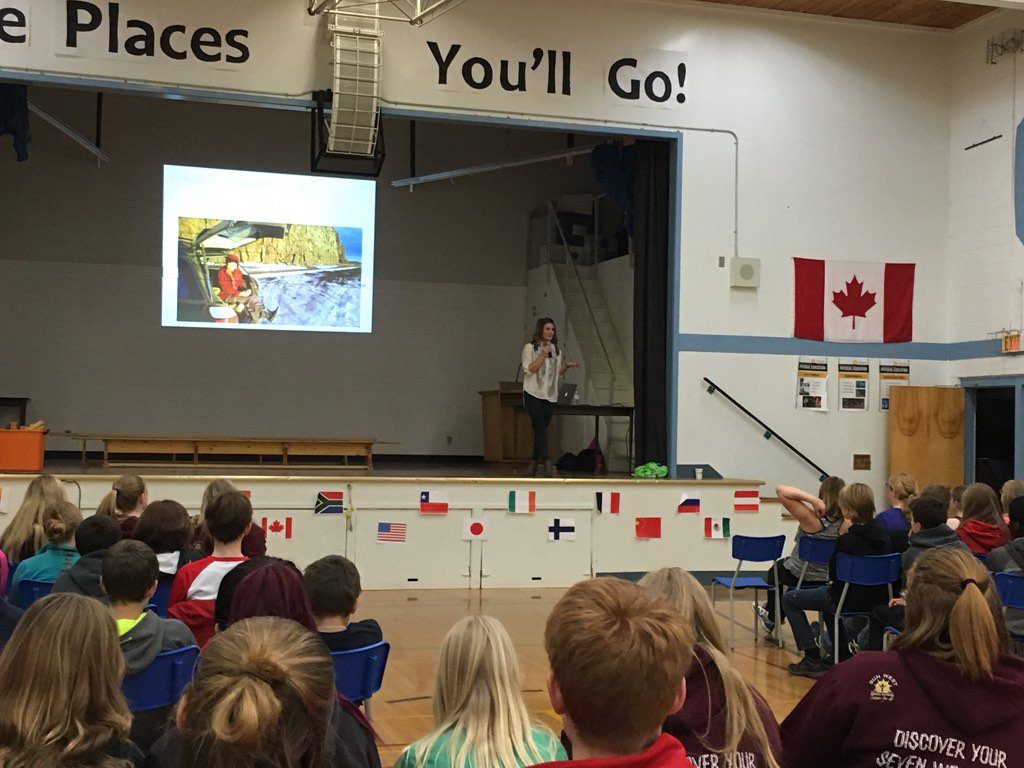 One of the main reasons I fly home to Canada so often is because I often speak around my home province. Last year I spoke at the IHARF Conference, the University of Regina Inspiring Leadership Conference, the Sun West School Division Student Leadership Conference and numerous other conferences and AGM's for groups. This year I have a few lined up again, including the Saskatchewan Living Green Expo as well as a few smaller ones with schools in the Saskatoon area.
I speak on a variety of topics focused on motivation and inspiration. Sometimes I speak on Saskatchewan and the amazing aspects of the province, and other times I focus on my journey to becoming a travel writer and how I made it all work. Sometimes I speak about travel in general and some of the unique stories that have happened to me.
3. Video Creation
A growing passion of mine is creating promotional videos for clients to help showcase their business. Whether it's a promo vid or a vlog to share through my social media channels, I love helping clients capture the spirit of their company in an interactive way for people to learn about it. This summer, I teamed up with Sun Fun You: Mediterranean Voyages in Turkey and Greece to help promote their fitness cruises in the Mediterranean. As video becomes the main type of content consumers are engaging with, it's more important than ever to have high quality videos to share with your audience.
4. On-Camera Presenter and Event Host
In addition to behind-the-camera work, I also do on-camera work as a vlogger or presenter. I've worked with the Saskatchewan Snowmobile Association promoting both live videos through Facebook and static videos on their YouTube channel. I've also done short PSA's for CAA Saskatchewan, a piece on skydiving in Saskatoon and a fun little series for Craven Country Jamboree. I also host or emcee events. I've hosted the TEDx Saskatoon event as well as Ag in the City in Saskatoon.
5. Social Media Training and Marketing
Social media is my passion and I love to help people capitalize on the limitless audience available to market their services or products. Depending on what fits best, social channels such as Facebook, Twitter, Pinterest, Instagram and Snapchat are all platforms I help clients learn about and understand. If they are looking for someone to run their channels, I also offer monthly services to create and share content weekly on their businesses channels.
6. Photography
I also specialize in travel landscape, Saskatchewan, and event photography and sell images from my collection to interested clients as well as magazines. I've been featured in CAA Saskatchewan, AMA Insider, and CAA Quebec as well as Pink Magazine and the 2016 and 2017 ExploreYXE Guidebooks. I've also had a small gallery in Shaunavon, Saskatchewan at Harvest Eatery and Fresh Market for the last 9 months.
As a seventh way to earn money, I occasionally partner with companies to share their products or advertise their brand through my social media channels. It's important my values and niche align well with the company to share with all my followers so I don't do it often. But it's also another avenue I'm exploring more and more to earn some income to continue travelling.
It's a variety of ways but it all helps me get out and on the road – the one thing I love most.
I'm always looking for new projects and work, so if you know someone who may be interested in my services, don't hesitate to contact me.