Looking to road trip across Nova Scotia but not sure where to start?
I've got the perfect week-long itinerary to share with you for a road trip across the province. It's based on a trip I did this autumn with my friend Lindsay from I've Been Bit.
Nova Scotia is pretty incredible to visit – with its rugged coastal beauty and charming fishing villages, rich Mi'kmaq, Black Loyalist, and Acadian history and the best part of all – the tasty seafood dishes everywhere you go.
This itinerary leaves from Halifax and travels through the Bay of Fundy and Annapolis Valley region, into Yarmouth and Acadian Shores and up the South Shore back to Halifax.
I've curated the best historical destinations, lighthouses, stops at the beach and, of course, the best places to eat along the way. This road trip will also tick off a few of those bucket-list locations like Grand Pre UNESCO World Heritage Site, Peggy's Cove and Lunenburg before returning you to Halifax.
READ MORE: 10 Unique Attractions to Visit in Nova Scotia
One Week Road Trip Itinerary Across Nova Scotia
There's so much to see and do in Nova Scotia it can feel overwhelming. So I've distilled it all down to the best places to visit on a five-day road trip across Nova Scotia's Annapolis Valley, Acadian and South Shores.
READ MORE: Love quirky and unique sites when you're travelling? Here are 10 unique attractions to check out when visiting Nova Scotia.
Arriving in Halifax
Flights coming into Halifax arrive at Stanfield International Airport, about a 45-minute drive from downtown Halifax. But even if you arrive later in the day (like we did), pick up a rental car and hit the road because we'll come back to Halifax at the end of our trip.
Nova Scotia is one of Canada's smaller provinces so drive times each day are typically between 1-2 hours on paved highway. The main highway will get you there faster, but sometimes it's worth taking secondary roads for more scenic views.
Nova Scotia Road Trip Day 1
Head straight to the Annapolis Valley and the communities of Grand Pre and Wolfville less than 100 km away to start your road trip across Nova Scotia.
Where to Stay in Grand Pre, Nova Scotia
If you're a late arrival like we were, use the door code to check straight into the stylish Evangeline Inn & Motel in Grand Pre. This modern and meticulously designed accommodation is stunning and has an indoor pool and outdoor hot tub.
Book a night here.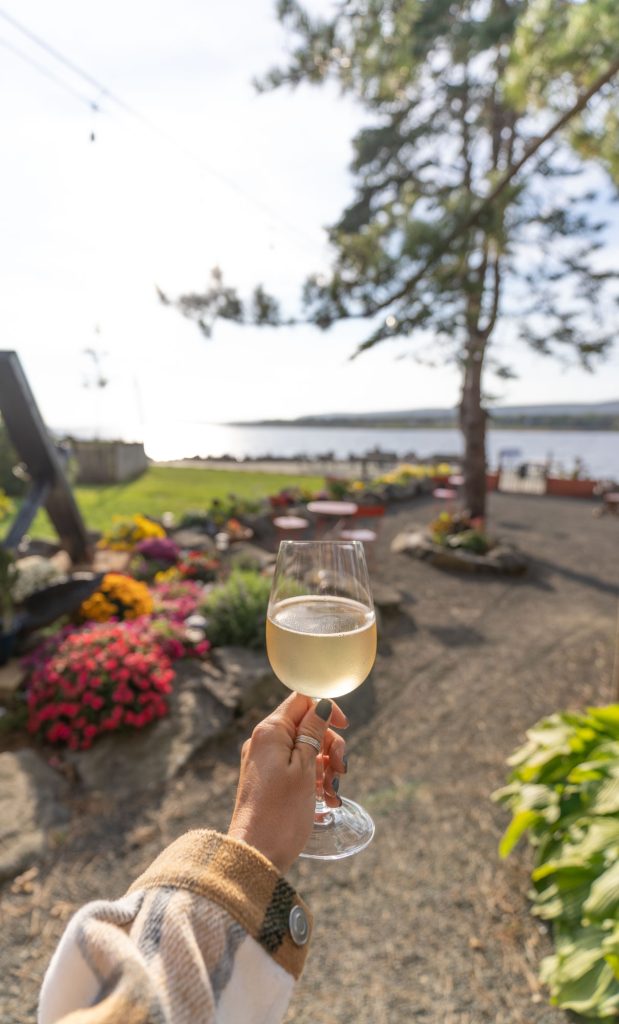 Where to Eat and Drink in the Annapolis Valley
In the morning, you'll want to get an early start as there is lots to see and do. Coffee lovers will be happy to start their day at Just Us! Coffee & Tea House which is Canada's first fair trade and organic coffee roaster.
For those who love wine, you'll want to spend more time in the area exploring the many wineries here. The earliest vines were planted as far back as 1611. Domaine de Grand Pre Winery is one of the oldest but there are many options for tours and tastings. For those looking for a non-alcoholic option, the Annapolis Cider Company grows, presses and bottles their apples all in Wolfville.
For lunch, pop by the Church Brewing Company set in a former +100-year-old church in Wolfville. I recommend ordering a sampler of their craft brews and the fish tacos or chowder (or both).
In Annapolis Royal, we unexpectedly discovered a "speak-easy" style wine bar in the back of a bookstore and leathers shop. Mad Hatter Wine Bar serves up a selection of Nova Scotian wine and charcuterie options in their cozy back room and on their airy outdoor patio. This is a prime sunset spot that connects to the waterfront boardwalk and leads all the way to the town's iconic and beautifully restored lighthouse.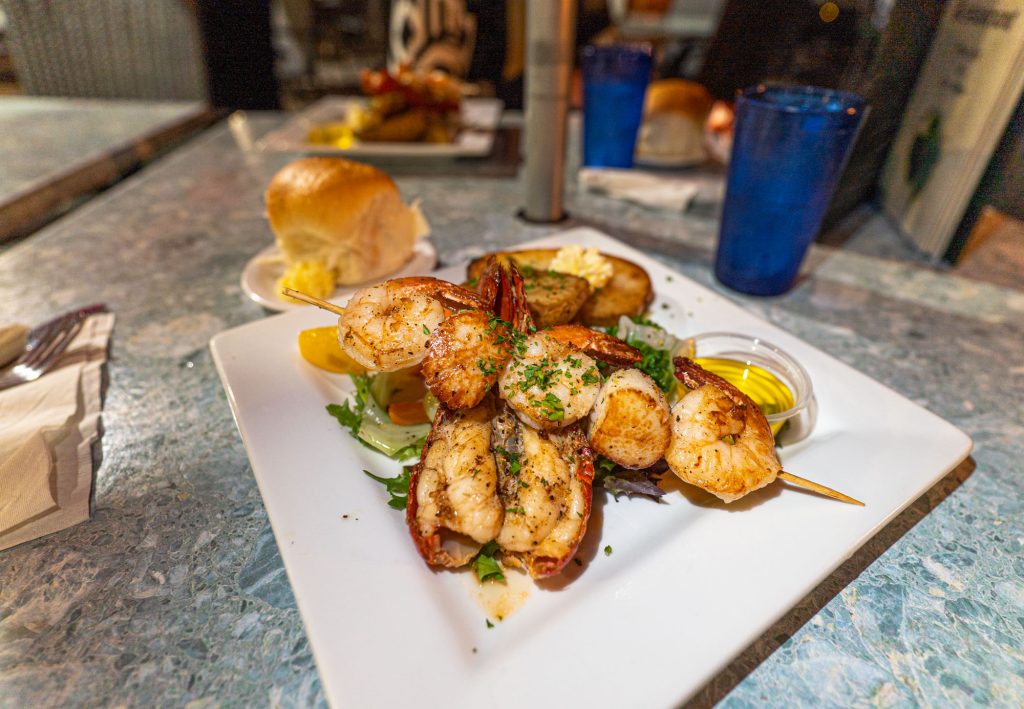 Save your final meal of the day for the fishing community of Digby, only a 30-minute drive away from Annapolis Royal. Here you can dine on some of the freshest scallops in the country all thanks to the cold and deep water that gives the scallops a consistent environment to grow in. (Also, the marina is right in town so it's as fresh as it gets).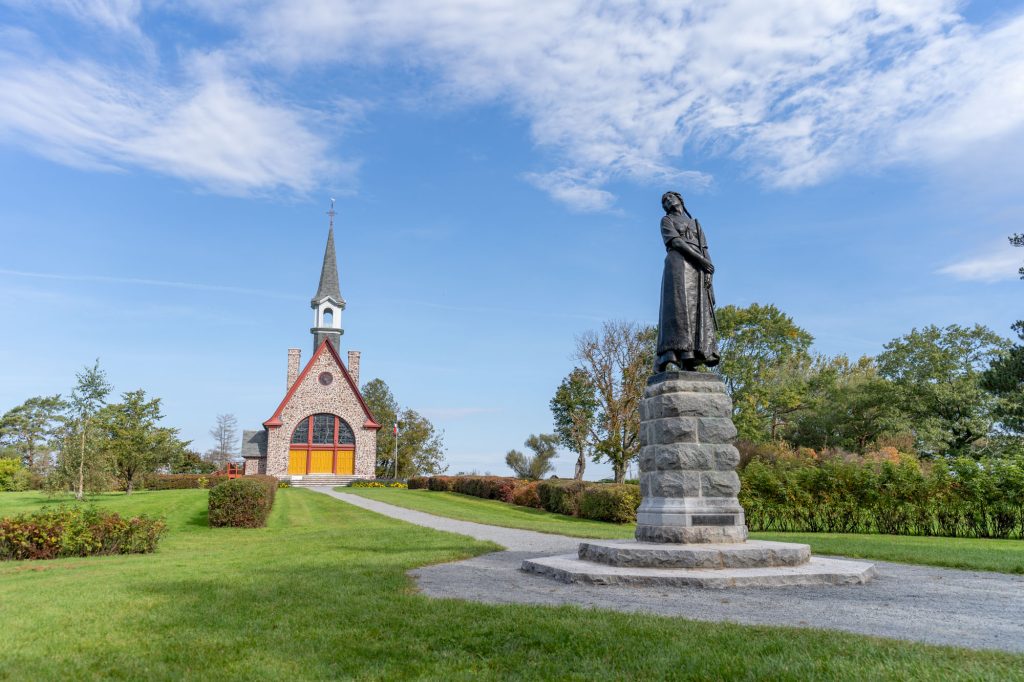 Historical Spots to Check out in the Annapolis Valley
History buffs and nature lovers will both be excited to check out the UNESCO World Heritage Site of Grand Pre. The marshland landscape played an important role for Acadians in the late 1680s and allowed them to create settlements with dykes and irrigated fields.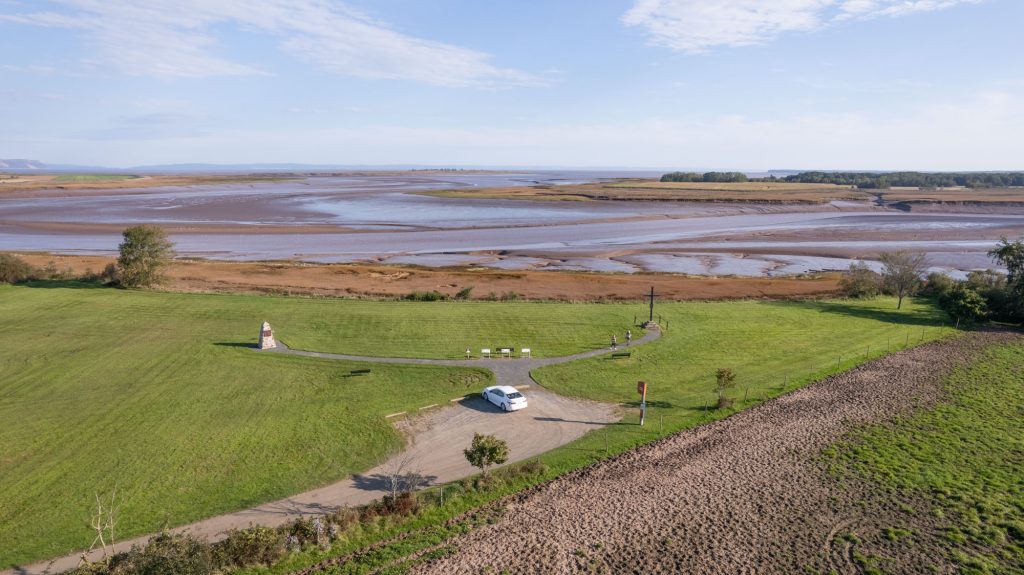 Check out the main visitor centre and grounds, but don't miss out on driving to other nearby sites like the deportation cross at Horton Landing, the views of Minas Basin from The Guzzle, and the iconic lookout point at the View Park where you can look down to the Memorial Church.
History Minute: Who Are the Acadians?
Acadians were originally from Western France and came over in the late 1600s. Nova Scotia is home to their descendants – you'll often see a star or flag proudly marking the homes of Acadians today. Grand Pre, while a UNESCO site, is also a Parks Canada site that memorializes the tragic upheaval and deportation of the Acadians in the mid-1700s.
Travel Tip: About 100 km away, the nearby town of Annapolis Royal was one of my favourite stops of the trip. Hop off the #1 Highway from Wolfville at Exit 20 to enjoy the scenic drive into town.
For a second dose of history, head to Fort Anne which is Canada's first National Historic Site. Here you'll learn the complex history of the Mi'kmaq, French, British, Acadian, and African Nova Scotians. The views of the harbour are beautiful as you explore the rolling hills of the fortified grounds. The exhibits inside the visitor centre are interactive and you can don period dress for some fun photo ops.
For those that can't get enough history, Port Royal National Historic Site is across the bay and has 17th-century reconstructed buildings and costumed interpreters.
Where to Stay in Digby, Nova Scotia
There's no doubt you're going to be exhausted after such a busy first day. Digby Pines Golf Resort and Spa is reminiscent of a stately chateau and has a heated outdoor pool, tennis courts, an 18-hole golf course and a spa all for your relaxation.
Book a night here.
Nova Scotia Road Trip Day 2
Day two travels along the Fundy coast from Digby out of the Annapolis Valley into Yarmouth and Acadian Shores territory, ending in Shelburne.
Where to Eat in Yarmouth and Acadian Shores
For those with a hearty appetite, Digby Pines has a buffet every morning. Otherwise, you can stop at the Sea Biscuit Cafe & Eatery in Digby which features all homemade food and a local art gallery on the top floor.
A must-eat lunch spot is at Le Cuisine Robicheau in Saulnierville. You can pick up a quick seafood poutine at the food truck out front. Or, head into the restaurant for incredible seafood dishes like lobster lasagna and scallops with creamed lobster topped with mozza.
Unique Food Stop: We also had to try Rappie Pie here – a mix of finely grated potatoes and chicken and a lot of extra water for a unique texture. It's a favourite of Acadians. If you're not sure you'll like it, ask for a "small" sampler. The standard portion size is huge.
Get a 2 PM pick-me-up in Yarmouth at Sip Cafe. They have an extensive coffee, tea and iced drinks menu and fresh pastries and gelato.
Or skip the coffee and go straight to a tasty cocktail at Boatskeg Distilling Co in Pubnico. Rumour has it their Salted Caramel vodka is top-notch.
It's worth the drive to make it to Captain Kat's in Barrington for a seafood supper as it's one of the most popular lobster restaurants in all of Nova Scotia. It's named in memory of Captain Katlin and the crew on his ship Miss Ally. They were lost at sea in 2013 and his mom Della opened it in his memory. Be careful of closing times as they closed at 7 PM during our trip. We ordered pickup and enjoyed it out on the waterfront.
What to See and Do in Yarmouth and Acadian Shores
You'll be off on a lot of cute stops today. But first things first, if you're a morning person, it's worth getting up early to catch the sunrise in downtown Digby along Admiral's Walk and see the world-famous scallop fleet light up in the soft morning glow.
On your way out of town, a unique stop is at folk artist Maud Lewis' replica tiny home in the yard of retired fisherman Murray Ross. There's a small shop featuring local artists' work and a yard sale shack where you can purchase items on the honour system (leave cash or send an e-transfer). Maud Lewis' original home is preserved in the Art Gallery of Nova Scotia in Halifax.
A pit stop at Gilbert Cove Lighthouse is worth it not only to see it but also to pump the antique manual foghorn they have. The lighthouse is taken care of by the local historical society and you can pop in to check it out and see the light at the top.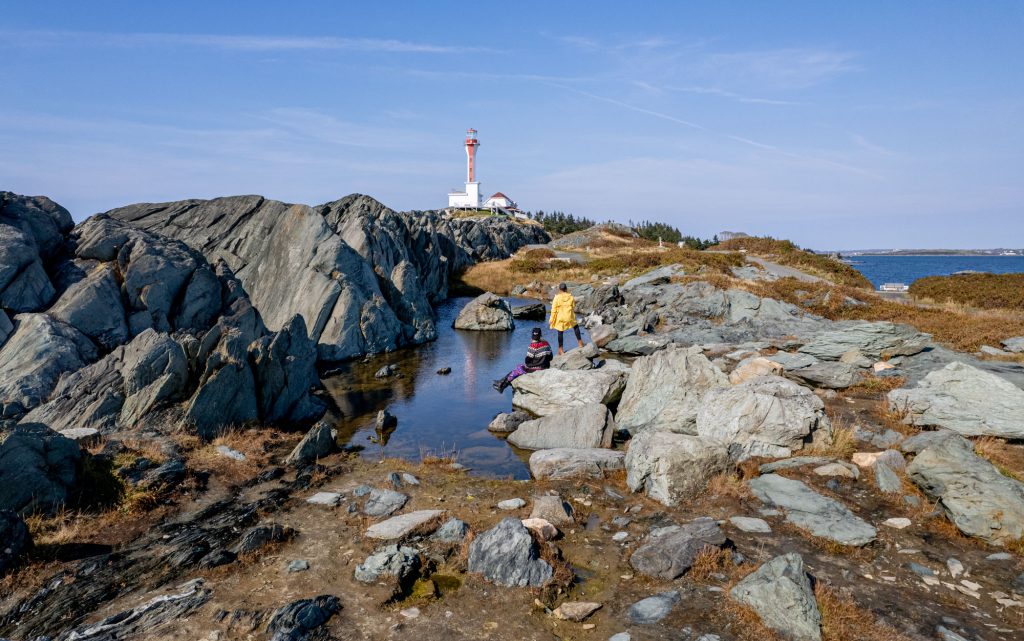 From lighthouse to lighthouse, you have to visit the famous "apple core" Cape Forchu lighthouse. Take the time to explore the short walking trail for lovely views looking back at the lighthouse. En route to Yarmouth, stop at The Buoy Wall for a colourful photo op alongside old buoys rescued from the ocean in a nod to Nova Scotia's fishing heritage.
Yarmouth's downtown main street is very cute and worth a stroll (or at least a drive-by) to see its stylized public art, impressive and colourful Victorian facades, and murals. Pop into unique shops like Seahags and Scallywags for coastal shopping.
If you have the time, a stop at Shag Harbour's UFO Centre shares about a sighting in 1967 where a UFO crashed in the harbour. Many locals saw it and still talk about the event to this day. There's even a three-day symposium people can attend each year that brings UFO experts and eyewitnesses together from all over the world.
For your daily history fix, finish the day off in Pubnico at Le Village Historique Acadien de la Nouvelle Ecosse to learn more about daily Acadian life.
Where to Stay in Shelburne, Nova Scotia
The long haul 200 km drive from Digby to Shelburne is worth it. Not only to cozy up at The Coopers Inn which was established in 1785, but to wake up for sunrise here. The rooms have personal touches like postcards and woollen throw blankets and local artwork on the walls. Plus, breakfast is included.
Book a night here.
Nova Scotia Road Trip Day 3
Day three in this itinerary is busy – so you might want to split it into two days. The itinerary takes you from Shelburne through Lunenburg and back into Halifax. You could easily book a night in Lunenburg so you have more time to explore the South Shore.
Where to Eat in Shelburne and Lunenburg, Nova Scotia
Indulging in eggs benedict for breakfast at The Cooper's Inn is the perfect start to exploring the historical town of Shelburne.
If you stick around until noon, plan for lunch at local hotspot The Emerald Light Kitchen & Bar in Shelburne. Their shrimp po-boy is excellent and their cocktails are made from the freshest ingredients.
Before heading out of town, another brewery stop in Shelburne is at Boxing Rock Brewery. We picked up a couple of cans of their Shag Harbour UFO Blonde Ale to enjoy.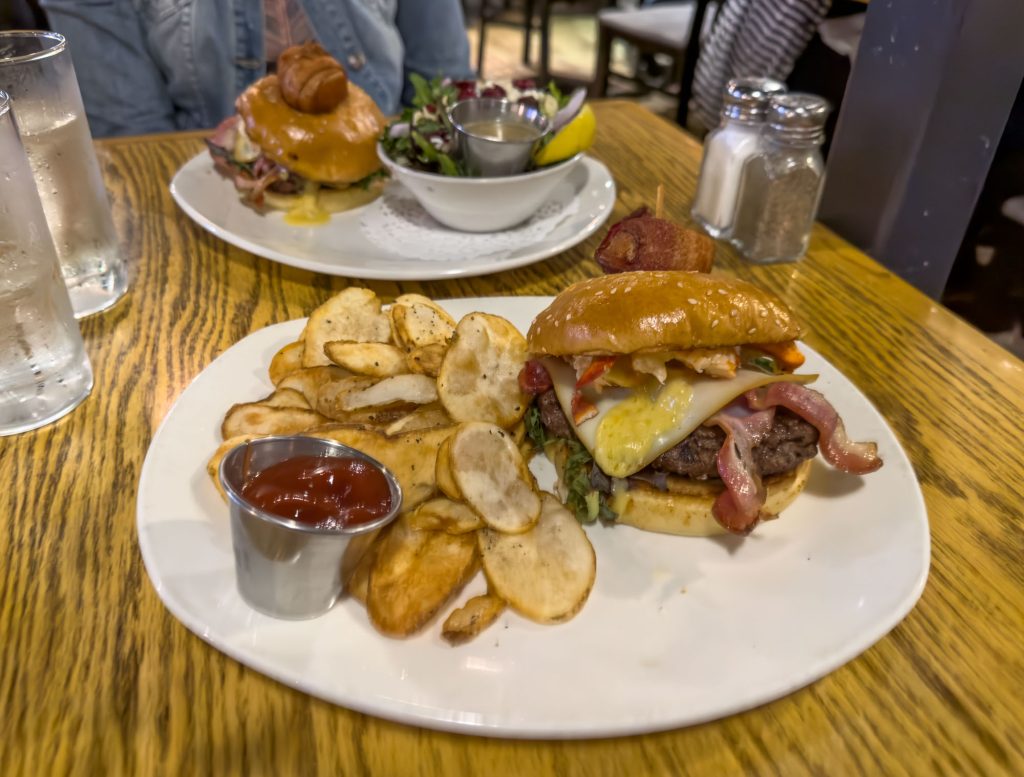 For sunset dining, Lunenburg has a variety of great restaurants to choose from. We stopped in at Lunenburg's Grand Banker because we had heard about their Lunenburger. It's 6 ounces of beef with lobster and a bacon-wrapped scallop on top. We were extra hungry from our hike earlier in the day and the burger was so satiating.
Top Stops Along Nova Scotia's South Shore
Shelburne is a popular community for cruise ships. So it's best to get up early and beat the rush of tourists taking over the town. History fans will appreciate learning that in the late 1700s, this town had a population boom of 3000 when United Empire Loyalists arrived in ships from New York City.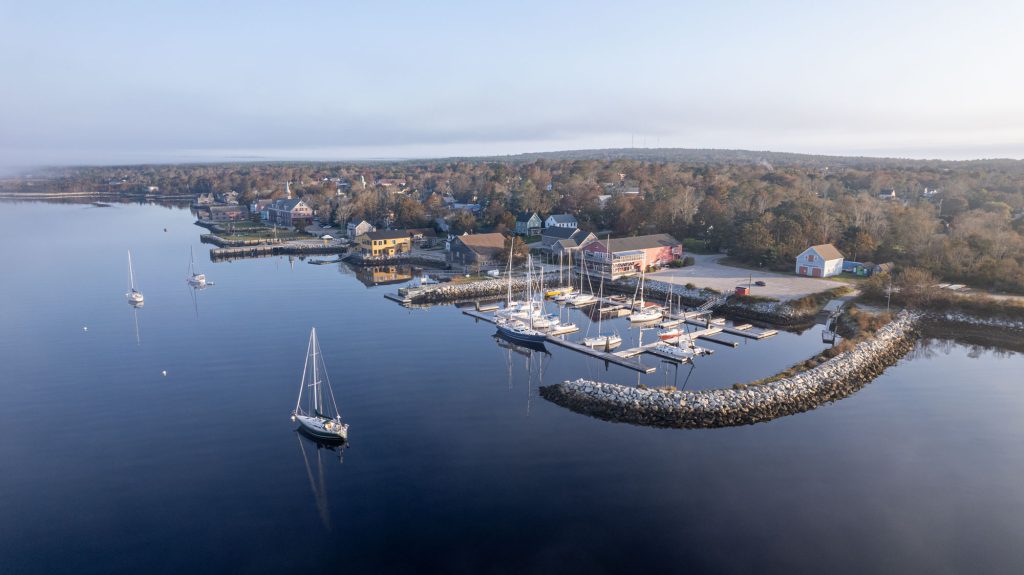 A stroll through the Waterfront Heritage District is a must. Include a stop at the Dory Shop and the County Museum. Then I recommend a visit to the Black Loyalist Heritage Centre 10 kilometres away in nearby Birchtown. This centre shares the story of the world's largest free African population outside of Africa. They provide you with a card with a name on it at the beginning of your visit. You can follow along on the real-life story of one of nearly a dozen individuals.
For nature enthusiasts, a visit to Kejimkujik Seaside lets you explore the coastal section of this National Park. The 5-kilometre roundtrip Harbour Rocks Trail is an easy stroll on a wide pathway that gets you to the beach and Parks Canada's iconic red chairs. Keep an eye out for seals playing in the water near the shoreline.
From Keji, make your way to Lunenburg, another UNESCO World Heritage Site that celebrates Nova Scotia's rum-running and ship-building history. If you're Canadian, you'll know how iconic this town is. It's home to the Bluenose II which goes on two-hour cruises twice a day. Its predecessor, the Bluenose, was one of the fastest racing schooners and is immortalized on our 10-cent coin.
While Lunenburg's townsite and harbour are quaint and fun to explore, the little village of Blue Rocks is just as cute. Located only a 6-minute drive away, the community is a real working fishing village with unique blue slate rocks along the shoreline and fishing shacks in the water. It's a top spot for photographers.
Where to Stay in Lunenburg
If you're looking for rooms with a view, book into the Rum Runner Inn in Old Town Lunenburg. Book here.
The Lunenburg Inn is also a great option, near the Fisheries Museum of the Atlantic. There's both a terrace and a garden on the property. Book here.
Nova Scotia Road Trip Days 4/5
A couple of days in Halifax is the perfect end to the trip. There's lots to see and do so you could easily spend several days exploring and barely scratch the surface.
Here are some highlights to check out in Halifax.
Where to Eat in Halifax
There are so many options of where to eat in Halifax that this could be an article in itself. To help you with the overwhelm of choosing, here are a few top spots to hit.
Salty's Restaurant
If you haven't tapped out on seafood yet (we hadn't!), I recommend stopping in at Salty's Restaurant on the waterfront near the Halifax Harbour. We split the difference and shared three plates of mussels, oysters, and a croissant lobster roll.
Xena's Bread and Butter Café
Xena's Bread and Butter Café in Halifax is an artsy 2-D restaurant where every wall has a story to tell. They are covered in hand-drawn monochromatic art with popular attractions from both the Philippines and Canada. And that's what you can also expect from the delicious food here – it blends Filipino and Canadian dishes. It's a great spot to hang out, catch up with friends or bring your laptop and work remotely. I recommend anything with purple yam in it.
Sou'Wester at Peggy's Cove
We expected the Sou'Wester restaurant on-site at Peggy's Cove to be an overpriced tourist stop. But we were delighted to find affordable meal prices with authentic fish cakes and green tomato chow chow on the menu. You also get a great view of the lighthouse from the dining room.
King of Donair
For a quick bite, grab a Halifax donair. This is an iconic dish of a spit-roasted shaved beef pita filled with tomatoes, onions, and their signature sauce. This was our first stop from the airport when we arrived for a late-night snack. Tony's Donair is also a local favourite.
Best Snacks to Try in Halifax
The time between meals is just as important when you're busy travelling. Here are a few snacks you don't want to miss out on.
BeaverTails
You won't find a BeaverTrails shop just anywhere in Canada – so when you do, you need to stop and try this iconic Canadian pastry. My secret tip is to get half and half so you can try two different kinds. My go-to is the Avalanche cheesecake spread and Brwownie. So good.
Deep Fried Pepperoni
Brothers-style pepperoni is a Halifax specialty that began in the 50s and 60s by – you guessed it – two brothers. Today you can get Original Brothers, Chris Brothers, or 2 Boys pepperoni on nearly any pub menu in the city, served up with a side of sweet honey mustard. It's crispy and delicious.
Moon Mist Ice Cream
You can't visit Nova Scotia without stopping to try some Moon Mist ice cream from Sugah Confectionary & Ice Cream Emporium. It's an Atlantic specialty and is a mix of banana, grape, and bubble gum. It's as tasty as it is fun to look at.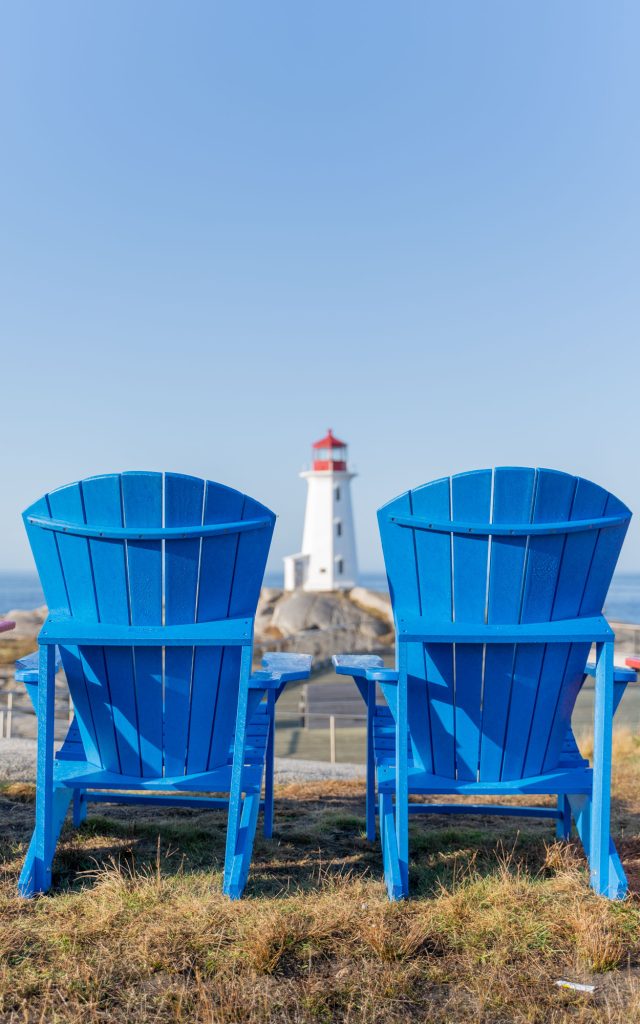 What to Do in Halifax
Peggy's Cove
Most people spending a couple of days in Halifax take a day trip out to Peggy's Cove. Hot tip if you plan on visiting – go at sunrise. Typically, the lighthouse is most popular during sunset. But sunrise is just as spectacular. We were there at 7 AM and had it almost completely to ourselves for a whole hour.
Africville Museum
Back in Halifax, take time to stop at The Africville Museum. The site shares about the historic African Nova Scotian community that faced discrimination, poverty, and its eventual relocation. The museum is a powerful reminder of preserving and celebrating cultural heritage.
Halifax Public Library
Is it odd to check out libraries when you travel? Because it's one of my favourite things to do! And Halifax's Central Public Library is straight-up amazing. Stunning architecture, an inclusive 'can see in and out' vibe with all the windows, a top floor cafe, an outdoor patio, and a sun room that are all creative places to hang out. They also have a unique library book vending machine at Stanfield airport if you're a local in need of a book for your next trip.
Canadian Museum of Immigration at Pier 21
Today, Pier 21 is the Canadian Museum of Immigration where more than 1.5 million immigrants came through from 1928-1971, including my grandfather. He arrived in Halifax on March 21, 1913, at the age of 19 on a ship called the Tunisian.
Employees in the Family History Centre will help you research your family – we found passenger lists, census data, and information that had been unknown in my personal family history for decades. It's also a great reminder to everyone that, with the exception of the Indigenous Peoples before us, we are ALL immigrants to this country no matter what year it happened in.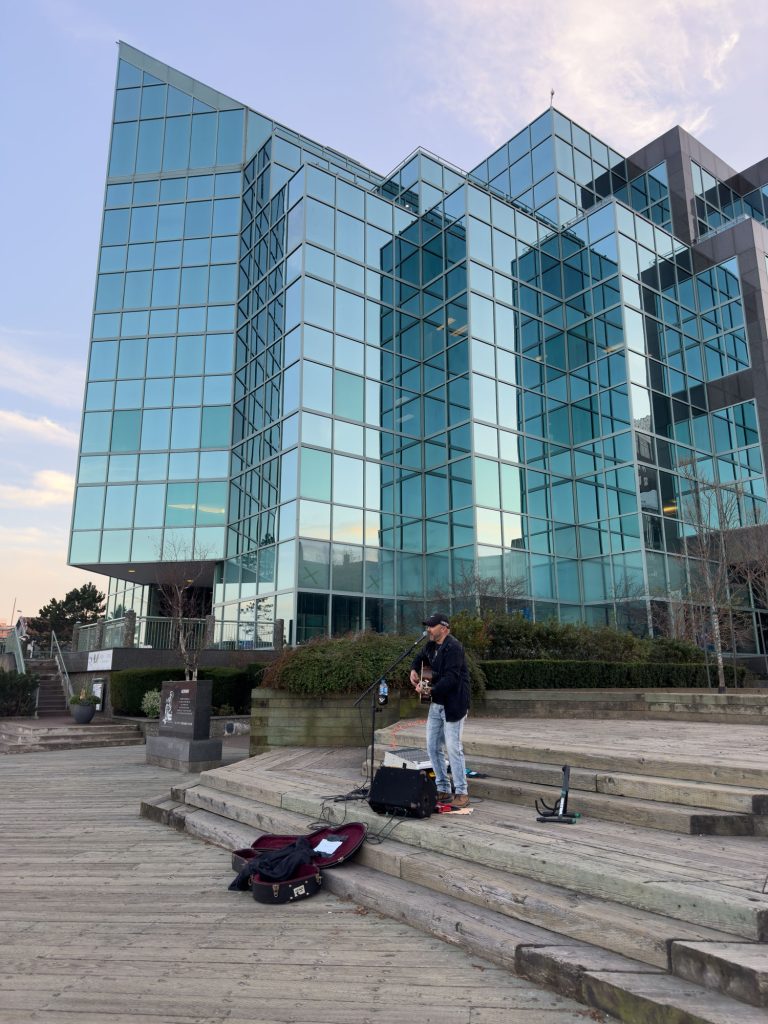 Explore Halifax's Waterfront
Halifax's iconic waterfront is a must-see destination. With restaurants, food stands, street entertainment, shopping and numerous public art exhibits to explore and engage with, there's always something to do.
Where to Stay in Halifax
The Sutton Place Hotel is extra luxurious and the king suite is worth the splurge but their standard rooms are also a step above. The hotel is perfectly located in downtown Halifax and is only a short five-minute walk to the waterfront and hot spots.
Book in here.
Pin this Nova Scotia Road Trip Itinerary to Pinterest
If you found this Nova Scotia road trip itinerary helpful, consider pinning it to Pinterest to reference later.
This post was authentically created by me, and brought to you thanks to Tourism Nova Scotia.