This post on Hudson Bay, Saskatchewan was created in collaboration with the Town of Hudson Bay and Tourism Saskatchewan. It is part of a series of videos and articles based on a five-day trip myself and photographer and filmmaker Matt Scobel had as guests of the town. As always, the adventures, stories and information provided in these articles are genuinely and authentically my own and based on personal experiences.
Have you been to Hudson Bay in the summertime? If you haven't and love the outdoors – you need to go!

Part of it what I love about the town is its unique location in the Pasquia and Porcupine Hills. Surrounded by 5 million hectares of forest, it's true wilderness.

I didn't realize just how many great locations there are to camp and stay until I visited. Here are a few you'll want to check out:
1. Hudson Bay Regional Park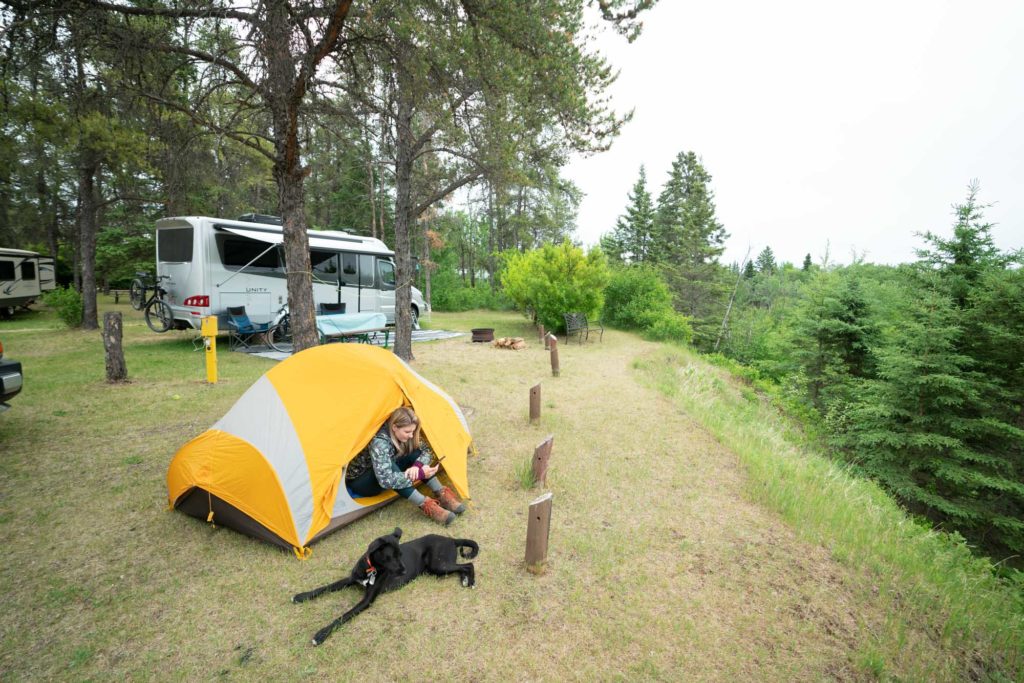 Located less than 2 kilometres south of the Town of Hudson Bay, the Regional Park is a prime location to pitch a tent or set up a camper. We spent several nights in the park because of its lovely viewpoint over the Fir River, close access to town and great cell service.

I spent a morning exploring the bridges and paths of the nature trails, an afternoon kayaking on the Red Deer River under the bridge on the Saskota Flyway and an evening paddleboarding on the Fir River. It's also a great launch point for multiday trips to Red Deer Lake in Manitoba.
Pat Horn is the manager of the site and does an incredible job maintaining it all. (The beautiful pots of flowers were my favourite).
You can also find the elusive and rare Ram's Head Lady Slipper in the campground if you know where to look (or ask a local who can help show you where to find them).
Make sure to stop in a take a look at the beautiful black and white murals painted by local artist Sheri Weber. She sourced the images from history books of the region to help bring awareness to the First Nations and early logging history of the area.
There's also a set of ball diamonds, a nine-hole golf course and a playground and spray tunnel for kids.
2. Ruby Lake Campground
Hudson Bay Regional Park also includes four other sites: Ruby Lake, Dagg Creek, Greenbush River and the Saginas Lake recreation sites.
The Ruby Lake Recreation Site is perfect for families. There's a beach, swimming area, playground and picnic site. There are also geocaches hidden around the lake for kids (and adults) to find.
The lake is a great size for recreational boating, tubing, canoeing and sailing and especially perfect for evening kayaks during golden hour.
3. McBride Lake Campground
We stopped in at the privately-owned McBride Lake Campground for an evening of paddleboarding in the Porcupine Forest. We were warmly welcomed by Ron and Laurie Schotts. Ron used to work for the Recreation Department for the Town of Hudson Bay and has since "retired" to McBride.
The campground has a number of private cabins, 51 seasonal sites and 10 non-electric overnight camping sites along its shores.
We were able to launch our paddleboard from the rocky shoreline and had a gorgeous paddle at sunset. The lake is also popular for fishing.
4. Spirit Lake Campground
If you're looking for peace, quiet and off-the-grid access to a provincial park campground, Spirit Lake is the perfect spot.
We spent a night in the hills and specifically chose this site because of its off-the-grid location amongst the jack pine, spruce and poplar. There are only a handful of sites so even on a busy weekend, you'll still get that quiet, tranquil atmosphere.
Take a canoe, kayak or motorboat and head out to Spirit Island, located in the middle of the lake. There's also great fishing for walleye, Northern Pike and perch.
5. Parr Hill Lake Recreation Site
The charm of the Parr Hill campground is in the crystal-clear spring-fed creek that runs through the site and into Parr Lake. You can hike to the top (an easy walk) to see where the water bubbles up out of the ground. It's ice-cold and perfect to refill water bottles. (I drank straight from the creek but do recommend filtering it first – just to be safe.)
The site is set amongst the spruce forest in Porcupine Hills Provincial Park and is the ideal location to spend some quiet time relaxing or fishing (expect walleye, Northern Pike and yellow perch).
I didn't get to camp here but when I come back, it will be the first location on my list to stay.
6. Townsend Campground
Driving through Townsend Campground I felt like I was in the mountains. Surrounded by tall spruce and balsam trees it's a great choice for tenters, campers and families.
Townsend Lake is central to nearly a half a dozen other lakes in the area (Woody, Spirit, Elbow, Smallfish and Isbister) and like most, great for fishing.
This campground is small and simple with 25 sites, but has access to the best natural landscapes in the region. It's also close to Moose Range Lodge so you're not too far from food, fuel and boats.
7. Moose Range Lodge
Owned by Dave and Sherry McCann, Moose Range Lodge is ideal for those who prefer not to choose the rustic options of tenting or pulling a camper into a campsite.
They offer five two-bedroom cabins and one three-bedroom cabin.
There are easy-to-access ATV and snowmobile trails (you can literally pull-up right to the cabin door) and great hunting in the autumn for moose, elk, deer and bear.
8. Fir River Ranch
Hot tubs, horses and hospitality. You can literally open the deck door at Fir River Ranch to greet and feed their horses during your stay.

Ranch owner Audrey Stauber knows how to be a good host. With five bedrooms in-house and two cabins (that can room 6 and 8 people) as well as two hot tubs and a sauna, it's a wonderful location to escape city life and get back to nature in both the summer or winter seasons.
9. North Country Bed & Breakfast
It's no surprise to wake up at North Country B&B and head downstairs to eat a scrumptious breakfast while watching deer frolic in Norma and Wayne Jenning's backyard.
They've thought of everything from a drying room for wet snow gear to a cozy living room with a fireplace to read a book or catch-up on work. Each room has its own lock (although privacy isn't a concern here) and the atmosphere truly feels like home.
But perhaps the best part is the meals prepared by Norma. As a journeyman chef and both an industrial cook and private caterer, her food is truly prepared with both talent and care. She'll make sure you eat, no matter the hour.
10. Jackpine Cabins
If you visit Hudson Bay as a snowmobiler in the wintertime, Jackpine Cabins is the location you want to stay. You can sled directly to the front door of your cabin and leave your snowmobile securely overnight in their heated, secure shop.
The cabins are both spacious and comfortable with a full modern kitchen and living area with two bedrooms. (There's even enough space to work out in the living room.)
Whether you're looking for a wilderness experience away from the crowds while staying in the heart of Hudson Bay, Saskatchewan, the Pasquia and Porcupine Hills offer every outdoor adventure you can imagine.