According to the more than half a dozen ski hills in Saskatchewan, this province isn't as flat as people think. The land of living skies holds its own on the slopes with all the trimmings of family-friendly alpine adventure and après ski sociables close to home
From night runs under the stars in the scenic Qu'Appelle Valley at Mission Ridge to Saskatoon's newly-opened and affordable Optimist Hill, there's a ski hill for every type of downhill enthusiast.
Guide to Ski Hills in Saskatchewan
Ski hills in Saskatchewan are unique in that they're not mountains, they're valleys cut by the glacier that covered most of the province 10,000 years ago and the riverscapes that have deepened these valleys over time. With dozens of runs – several more than a kilometre in length – there are lots of great choices when it comes to learning to ski and snowboard in the province at affordable rates.
Here is the complete guide to all the ski hills in Saskatchewan. (In no particular order)
1. Optimist Hill, Saskatoon
The province's newest winter leisure destination is located in its largest city. Optimist Hill has called Saskatoon home since 2019. It has two lifts, a terrain park and a five-lane tubing hill. The hill is open in the evenings from Wednesday to Friday and all day on the weekends. There's an on-site chalet for warming up and a snack shack that serves quick bites and warm food. The Hill also has rentals available and offers ski and snowboard lessons. It's affordable and the perfect location for the whole family.
2. Mission Ridge, Fort Qu'Appelle
While we don't have "ski mountains" we still take snow sports seriously here in Saskatchewan. Known as the home ski-hill of Regina-born professional snowboarder Marc McMorris, Mission Ridge Winter Park is set in the scenic Qu'Appelle Valley less than an hour northeast of Regina. Not only do they have a tubing park but they have three lifts and 14 marked runs with a vertical drop of over 100 metres. They also offer night skiing so you can head out (at a discount) and catch a few runs under the stars.
Grab a bite to eat at their dine-in restaurant Bubba's @ Mission or grab a quick pizza or sub at The Red T-Bar. The resort offers individual, group and family lessons with rentals. They also have a reciprocal agreement that offers deals and savings with three dozen other resorts.
3. Duck Mountain Ski Area, near Kamsack
In the hilly terrain of the Manitoba escarpment, Duck Mountain is a gem tucked into the valley on the border of Manitoba and Saskatchewan. The hill has 22 runs ranging from beginner to expert that boasts all-natural, knee-deep powder. The longest run is 1600 metres and offers breathtaking views of the boreal forest. It's not uncommon for the resort to receive two feet or more of snow a season which makes it a great hill to play in the powder.

The park recently opened a tubing hill that curves down the valley slopes and is easily accessed by a conveyor belt. The two-story chalet has ample space to warm up and grab a hot meal in between runs.
4. Ski Timber Ridge, near Big River
Ski Timber Ridge is the ski hill all the locals know about and with good reason – it's community-run. Located 2.5 hours from Saskatoon and 1.5 hours from Prince Albert near the small town of Big River, the hill is open on weekends.  There are six runs accessible with a T-bar and rope tow. The runs range from 400 to 800 metres with an elevation drop of 100 metres. There is a variety of terrain to navigate for both beginners and experts. At the base of a hill is a cozy lodge perfect for grabbing a bite and warming up – I recommend their grilled burgers.
5. Wapiti, near Nipawin
Wapiti Valley Ski Resort has it all – which is why it's considered one of the top ski resorts in the province. The resort is 2.5 hours northeast of Saskatoon and 30 minutes north of Melfort. Located in the Wapiti Valley with views over the North Saskatchewan River, it's close to a number of towns in the region.

The resort has 15 runs with a total of 6km of slopes. They have a quad chair lift and often see more than 30,000 skiers and snowboarders throughout the season. There's a terrain park, night skiing and the log-chalet has a pro-shop as well as a cafeteria and a licensed lounge.
The hill is a popular place for teens to get together on breaks and weekends to hang out and ride. But it's also an inviting place for families as the resort offers rentals and lessons and has a bunny hill perfect for learning.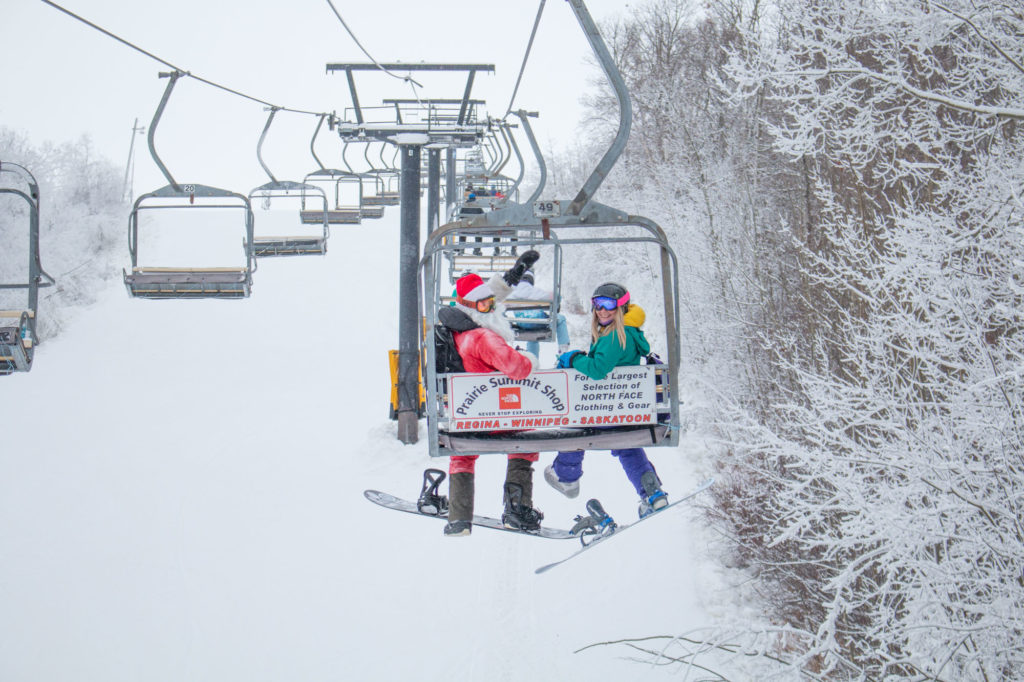 6. Table Mountain, near North Battleford
Table Mountain Ski Resort offers winter activities for snow enthusiasts of all ages. It's been an institution in the province, having been in operation for more than 50 years. Located only a fifteen-minute drive west of The Battlefords, this prairie alpine resort has 11 groomed slopes, 100 metres of vertical drop and 10 kilometres of trails with the longest at just over a kilometre long. There are two high-speed quad chairs and two magic carpets that provide access to both the main hill and bunny hill. There's a terrain park, a tubing park as well as rentals and lessons available for skiers and snowboarders of all levels. They also offer night skiing on most Friday evenings.

7. Kinsmen Ski and Snowboard Centre, Prince Albert
Just outside the city of Prince Albert is the Kinsmen Ski and Snowboard Centre in Little Red River Park. There are 3 downhill runs (2 beginner and 1 intermediate), 2 rope tow lifts and a very popular terrain park. The centre offers both rentals and lessons and is a great family-friendly hill to learn to ski or snowboard. There's an on-site If you visit, make sure to also check out the hiking, snowshoeing and cross-country ski trails nearby in the park.
Found this post on ski hills in Saskatchewan helpful? Pin it to Pinterest