Paris: the capital of free love, literature, art and fashion. The streets sing with stories of decadence and romance, but take a wrong turn and you could find yourself in a cliché tourist trap, surrounded by couples gazing lovingly into each other's eyes, with a selfie-stick in hand.
Here's how to experience the real glamour and elegance of the capital, like a true fashionista. Chanel sunglasses and chic black turtlenecks at the ready.
A visit to the city's coolest concept store, Colette is an absolute must. Here you'll find an artistically curated collection of eclectic goods from electronics, toys, magazines and art, to furniture, jewellery, beauty products and designer clothing. When you grow tired of browsing, head to the basement restaurant and "water bar" to refuel and look fashionably nonchalant whilst sneakily people watching from behind your Simone de Beauvoir novel.

Galeries Lafayette is also one to cross off your shopping tick list. It's grand and comprehensive with the largest international women's department spreading across three floors, as well as a men's section and gourmet emporium. Under the magnificent stained-glass dome you'll find all the usual luxury big names as well as a few surprises. It has its own modern art gallery, 19 restaurants, and rooftop viewing point.
Sitting across the river from the Notre Dame, you'll find the cozy antiquarian bookshop, Shakespeare and Company. The space is wood-paneled and tiny, crammed with the most beautiful and rare editions of novels, poetry, plays and non-fiction. Even if you're not an avid reader, it's worth a visit for the old world nostalgia of literary romance – here some of the world's greatest writers swapped a few hours work for a place to sleep and on occasion, you'll find contemporaries such as Zadie Smith holding imitate evening readings.
Indulge at the tranquil spa at Mandarin Oriental, Paris after a long day of wandering round the high-end boutiques that surround the hotel. Opt for the Mandarin Oriental Signature Spa Therapy for two hours and twenty minutes of pure relaxation, involving gentle scented exfoliation, a rose petal foot-bath and a deep muscle massage, tailored by the expert therapists to suit your individual needs.
A ten-minute stroll from Mandarin Oriental takes you to Palais-Royal the best district for vintage stores and also the place where Charade was filmed. When the weather's warm, cafes set up pretty little tables and chairs in the square where you can sit and wile the hours away, following in the footsteps of philosopher and art critic, Denis Diderot and other glamorous figures from the city's star studded past.
When the haute couture house closed in 2002, renovation work transformed Fondation Pierre Bergé Yves Saint Laurent into an exhibition space where major shows are now held two to three times a year, focusing on fashion, painting, photography and decorative arts. In between shows the space is sometimes closed so it is worth researching in advance, but it makes an interesting alternative to some of Paris' well-trodden museums and also has a great bookshop.
Galerie Christine Diegoni is the place for design nerds. The gallery houses a treasure trove of collectable furniture and art pieces from the likes of Charles & Ray Eames, George Nelson and Gino Sarfatti, curated by Christine Diegoni herself, who is responsible for launching the career of many world-renowned designers back in the 1950s.
The Saint-Pierre Market, or the Land of Fabrics as its affectionately known, is paradise for any budding designer or seamstress (one of the stores is wittily named Au Bonheur des Dames, the title of the Zola novel translated as The Ladies' Paradise). There are few places in the world where you'll find such an impressive selection of materials, patterns and colours.
Eat at one of the most exclusive traditional bistros, Le Voltaire. Unassuming and suspiciously touristy looking from the outside, behind the velvet curtains you'll soon discover this is a true local favourite with regulars who treat it like a private club – the maître d' kissing ladies' hands before leading them blushing to their tables. The food is rich, thick and creamy, with delights such as Lobster omelette on the menu. The restaurant has a loyal celebrity following, so you never know who could be sitting at the next table.
After dinner, make to a cocktail bar such a Little Red Door, hidden amidst the boutiques of the Haut Marais district and led by a protégé of the Experimental Cocktail Club. Otherwise there's La Perle (where John Galliano was filmed making the anti-Semitic rant that got him the sack at Dior), a hip hangout with great cheese and meat platters. Somewhat ironically, the best drinking spot in Paris is often heralded as "Carr's Irish Pub" which tends to be packed with fashion editors, stylists, photographers and bloggers during fashion week who are trying to escape the pretentious whirl of champagne receptions.
For dancing the Social Club is a firm favourite with 'retrofuturist' interiors, black walls and neon lights, or for something more unique try Le Crazy Horse – one of the most fun, risqué and historic cabaret clubs in the city. Expect female dancers with suitably provocative names like Nahia Vigorosa and Fasty Wizz, wearing the skimpiest of outfits and a young and curious crowd.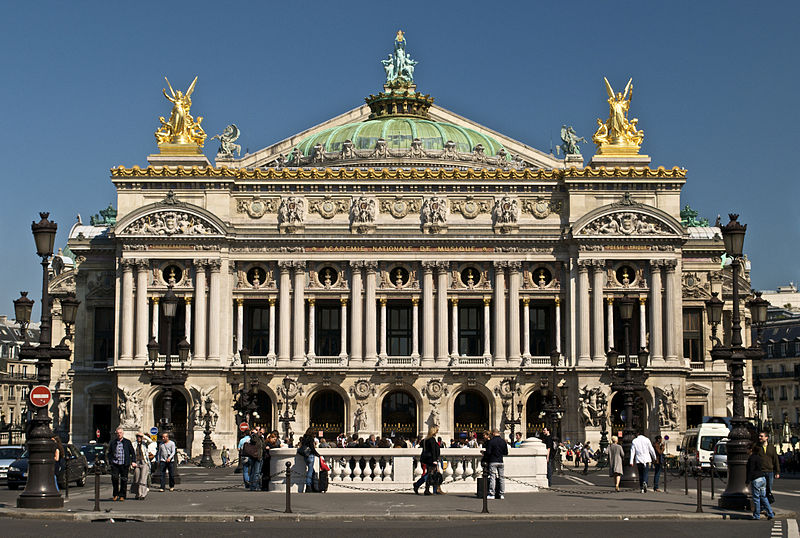 If you're feeling more demure, there is of course the more refined side of Paris too. The ornate opera house, Palais Garnier is one of the world's most impressive. Book a private box to experience it in true style with a glass of champagne in hand.
Bio
: Jan blogs at
The Crazy Tourist
and loves travel, blogging and Belgian craft beers. His life goal: less work, more life.